Beyoncé's Featured Dancers Les Twins Partners With Kids Write Network to Promote Mental Health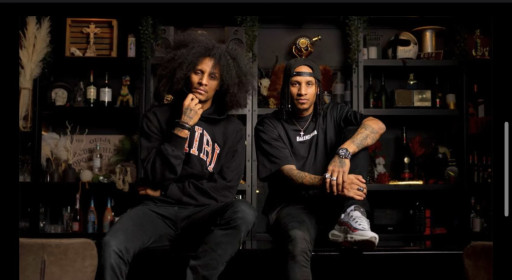 Les Twins
Larry & Laurent Bourgeois for Kids Write Network
ATLANTA, July 19, 2023 (Newswire.com) - Kids Write Network's "RISE for Mental Tour with Les Twins" (RMH) has received praise from educators, parents and students across North America during visits to schools, community centers and hospitals. The Kids Write Network (KWN) and world-renowned dancers Larry and Laurent Bourgeois, known as Les Twins, aim to raise awareness about mental health and improve access to treatment and services.
In November 2022, Les Twins collaborated with KWN to develop workshops for schools and received widespread attention, with over 500 schools seeking to host the RHM tour. Through the power of dance, Les Twins demonstrate how they use body movement to cope with mental struggles, promote empowerment and show resilience.
The U.S. leg of RMH will launch Oct. 16 in Atlanta at the end of the current world tour that features Les Twins and their breathtaking performances. KWN will also release its AI app, which helps users measure progress in their mental health journeys.
KWN is a scientifically developed and medically approved in-school program that combines positive psychology, neuroscience, literary and art disciplines and the KWN Scyibl six-step program to provide students the tools to understand and better communicate about their mental health. KWN has received recognition from Canadian Prime Minister Justin Trudeau, who recommends the KWN program to Canadian schools.
The ATL Year of the Youth initiative is the reason the U.S. debut of RMH will be in Atlanta. KWN, Les Twins and Atlanta want to ensure youth have all of the resources they need to thrive.
Atlanta is also home to music industry veteran and philanthropist Shanti Das' nonprofit organization "Silence the Shame" (STS), dedicated to eliminating mental health stigma, and to reducing health disparities, and suicide rates among vulnerable populations. STS creates positive experiences, relationships, and environments, promoting positive youth development and empowering young people to prioritize their mental well-being. As an advocate for innovative solutions to engage in marginalized communities, STS is pleased to serve as an outreach partner for the RMH tour. "Mental health conditions are a public health issue in our community, and we are dedicated to offering tools to support good mental health for youth," says Das. A live taping of the "Silence the Shame" podcast and KWN Les Twins demo is scheduled for Aug. 13, 2023.
Due to its dedication and commitment to leading independent schools in best practices around mental health, Atlanta's Pace Academy is the first school on the RMH US tour. "Pace is thrilled to partner with Kids Write Network and Les Twins to support mental wellness, engage young people, and promote positivity, joy and art through this unique program. Mental health is a focus of Excellence in Every Endeavor, our school's 2022-2027 strategic plan, and our community is honored to serve as the launch site for RISE for Mental Health's U.S. tour," states Fred Assaf, Head of School, Pace Academy.
Contact Information:
Kimiko Queguiner
board member, KWN
[email protected]
(404) 316-7642
Helen Georgaklis
Founder, Kids Write Network
[email protected]
Original Source:
Beyoncé's Featured Dancers Les Twins Partners With Kids Write Network to Promote Mental Health
The post Beyoncé's Featured Dancers Les Twins Partners With Kids Write Network to Promote Mental Health first appeared on TREND MAG.
Media - TREND MAG originally published at Media - TREND MAG