Demystifying Prenups: The Prenup Coach's Informative Webinar With Special Guest & CEO of HelloPrenup, Julia Rodgers
Unveiling an exciting opportunity for all couples wondering if a prenuptial agreement is right for them.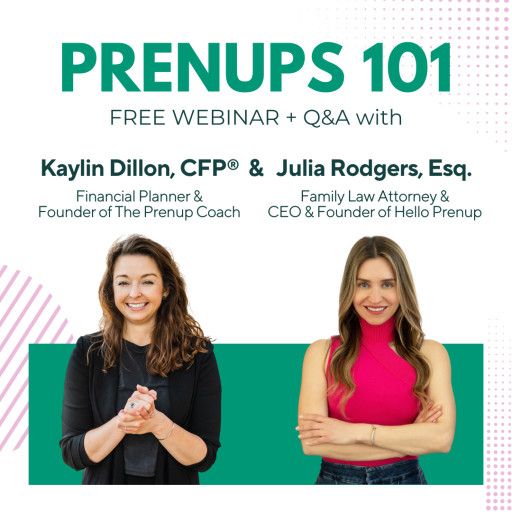 Prenups 101 Webinar Kaylin Dillon, CFP & Julia Rodgers, esq. CEO of HelloPrenup
Prenups 101 Webinar Kaylin Dillon, CFP & Julia Rodgers, esq. CEO of HelloPrenup
BOSTON, September 6, 2023 (Newswire.com) - We are thrilled to announce that Julia Rodgers, HelloPrenup's CEO and prenup legal tech pioneer, is speaking at an exclusive session dedicated to understanding prenups to ensure attendees are well-equipped to make informed decisions about their future.
Event Highlights:
Targeted for the engaged and the curious, the session will address:
Prenup basics & benefits
An in-depth look into the varied options available when considering a prenup
A dedicated Q&A segment, ensuring that every query or apprehension related to prenuptial agreements is addressed
Exclusive giveaways designed by financial experts to empower couples with their next steps towards their financial goals
Special Guest Alert:

"We're honored to have Julia Rodgers on board for our September 15 session. As a seasoned family law attorney and the founder of HelloPrenup, Julia brings unparalleled expertise and insights to the table. Her passion for making the process of getting a prenup transparent and stress-free will be invaluable to attendees." - Kaylin Dillon, The Prenup Coach
Can't join the live session but want to stay informed? Sign-up anyways. A recording will be made available post-event, ensuring no one misses out on this wealth of information.
Event Details:
Date: September 15, 2023
Time: 12:00 PM CDT
Venue: Zoom
Seats are limited, and the interest is surging. Reserve your spot, or reach out for more information.
About Kaylin Dillon, CFP
Kaylin Dillon is dedicated to fostering understanding and awareness of financial planning. Through informative sessions, workshops, and seminars, she empowers individuals and couples to make informed decisions.
Join us on September 15 for a deep dive into the world of prenups, and walk away with clarity, confidence, and a clear path forward.
About HelloPrenup: HelloPrenup offers a comprehensive platform for couples to gain clarity on their financial journey ahead. By leaning into unambiguous data, HelloPrenup continues forth in their mission to provide critical resources to all couples prior to marriage to make informed decisions and a solid foundation in both love and law. For press inquiries, contact: [email protected]
Contact Information:
Lauren Lavender
Chief Marketing Officer
[email protected]
4084760719
Original Source:
Demystifying Prenups: The Prenup Coach's Informative Webinar With Special Guest & CEO of HelloPrenup, Julia Rodgers
Lifestyle - Sexy Press originally published at Lifestyle - Sexy Press