ISSA, LLC Selected as an Arizona Top Workplace for 2023
Employee-Driven Feedback Secures ISSA This Prestigious Honor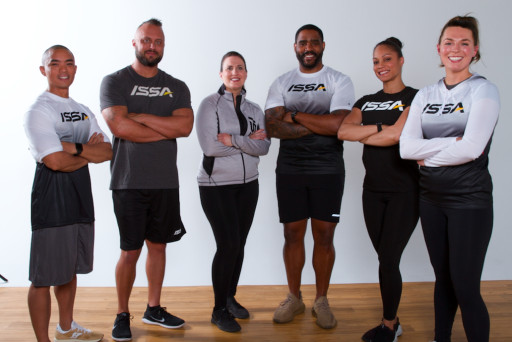 ISSA TEAM MEMBERS
ISSA TEAM MEMBERS
PHOENIX, July 20, 2023 (Newswire.com) - ISSA, LLC has been awarded a Top Workplaces 2023 honor by The Arizona Top Workplaces. This employee-driven research-backed award is based solely on employee feedback gathered through one of the nation's most credible employer recognition programs.
ISSA employees evaluated the company on 15 unique culture drivers that are critical to the success of any organization, including alignment, execution, connection, and more.
ISSA CEO, Andrew Wyant, says, "This honor speaks volumes about our passionate, mission-driven team culture. When people work in an environment where everyone is supportive of each other and are focused on serving our students to help them achieve their goals in fitness - everybody wins."
The program, administered by Top Workplaces and executed by employee engagement technology partner Energage, LLC, uses a confidential survey to evaluate employee input.
"Earning a Top Workplaces award is a badge of honor for companies, especially because it comes authentically from their employees," said Eric Rubino, Energage CEO. "That's something to be proud of. In today's market, leaders must ensure they're allowing employees to have a voice and be heard. That's paramount. Top Workplaces do this, and it pays dividends."
###
About the International Sports Sciences Association
The International Sports Sciences Association (ISSA) is the global leader in online fitness and wellness certifications. For over 30 years, ISSA has been committed to delivering comprehensive, cognitive, and practical education that's grounded in industry research. Rooted in Certified Personal Training certifications, ISSA offers over 50 fitness and wellness certifications and specializations, including a Yoga Alliance-recognized Yoga 200-Hour Teacher Training Course, Certified Personal Training en Español, Health Coaching, Nutrition, and more. ISSA has educated nearly half a million trainers across 176 countries while driving toward their vision to connect 100 million people to the power of healthy living by 2030. www.ISSAonline.com.
About Energage
Energage is a purpose-driven company that helps organizations turn employee feedback into useful business intelligence and credible employer recognition through Top Workplaces. Built on 16 years of culture research and the results from 27 million employees surveyed across more than 70,000 organizations, Energage delivers the most accurate competitive benchmark available. With access to a unique combination of patented analytic tools and expert guidance, Energage customers lead the competition with an engaged workforce and an opportunity to gain recognition for their people-first approach to culture. For more information or to nominate your organization, visit energage.com or topworkplaces.com.
Contact Information:
Kim Kisner
PR Lead
[email protected]
313-333-2163
Colleen Reddington
Marketing Manager
[email protected]
800-545-8111
Original Source:
ISSA, LLC Selected as an Arizona Top Workplace for 2023
Lifestyle - Sexy Press originally published at Lifestyle - Sexy Press