Global Hallyu Content Contest 'Talk Talk Korea 2023' Opens
The World's Largest Hallyu Content Contest 'Talk Talk Korea 2023' Will Run Through Sept. 17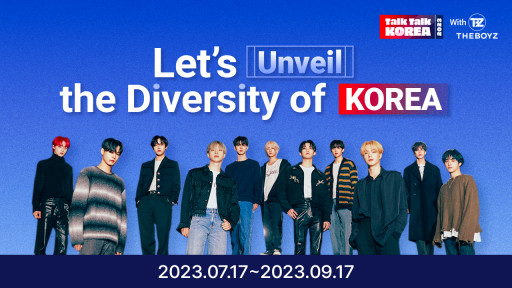 The World's Largest Hallyu Content Contest 'Talk Talk Korea 2023' Will Run Through Sept. 17
(Korean Culture and Information Service)
SEOUL, South Korea, August 5, 2023 (Newswire.com) - Talk Talk Korea 2023, the world's largest Hallyu content contest, will run through Sept. 17. Organized annually by the Ministry of Culture, Sports and Tourism's Korean Culture and Information Service (KOCIS), Talk Talk Korea is the world's largest Hallyu content contest for foreigners, and has contributed to disseminating positive images of Korean culture across the world.
This year's contest, under the theme of "Let's Unveil the Diversity of Korea" will seek submissions in the form of videos, drawings, webtoons, photos and essays under five general categories: K-Music, K-Food, K-Beauty, K-Fashion and K-Culture. Each theme has a different submission period, requiring participants to turn in their work to the program's official website (www.korea.net/TalkTalkKorea) during each period. For the special theme "Introducing Korea," video and drawing entries will be accepted throughout the entire contest period.
KOCIS will select 80 winners, ranging from first to fifth place in each category, based on a comprehensive expert evaluation and user votes. All the winners will be announced in October.
KOCIS will recognize a total of eight first-place winners, selected from each category, with a nine-day tour program in Korea to experience its culture firsthand. Other prizes include laptops, smartphones, tablets and gift cards. All participants will receive commemorative non-fungible tokens.
The winning entries will be featured in upcoming online and offline exhibitions in Korea and abroad.
"Global interest in Korean culture and the status of K-content keeps rising," said KOCIS Director Kim Jangho. "We hope that K-culture will become more widespread in the future so that people around the world can naturally enjoy Korean culture in their daily lives."
Contact Information:
Hye Ri Park
[email protected]
Original Source:
Global Hallyu Content Contest 'Talk Talk Korea 2023' Opens
The post Global Hallyu Content Contest 'Talk Talk Korea 2023' Opens first appeared on TREND MAG.
Media - TREND MAG originally published at Media - TREND MAG